Teen Volunteers Needed
Do you need community service hours for school or National Honors Society?
Are you looking for a way to give back to the community OR do you simply just want to have some fun while doing some good?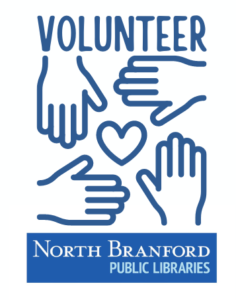 If you answered yes, then North Branford Public Libraries might be the perfect fit! We are currently looking for high school students that are interested in helping our children's departments by crafting, setting up for programming and/or tidying up the department throughout the school year.
The library is currently open 6 days a week, (till 8PM Monday – Thursday) so there are plenty of opportunities to create a schedule that works best for you. The commitment is 1 hour per week. If you are interested all you need to do is fill in this form and we will be in contact.
Please know that teen programming and collection recommendations are always welcome. In order to do so we are working to build a Teen Advisory Board (TAB) where high school students would come together to select books, plan programs, play games and SNACK! Plus, additional volunteer hours will be up for grabs since all of these efforts work towards making the library a vibrant, welcoming and open space for teens. If this sounds like something you could get behind please email clemire@nbranfordlibraries.org to learn more.