Library Cards
Free library cards are issued to residents of North Branford who can show proof of residency (usually driver's license or business mail with North Branford address). These cards expire after 3 years and may be renewed at no cost. There is no replacement charge for a lost card. There is no minimum age for a child to sign up for a library card. Parental approval is required for children under the age of 14. School identification cards are considered proof of residency. Parents are responsible for the debts of their minor children. A person may use another family member's card; any fines against the card will be charged to its owner. Residents of other towns must obtain a card from the town they live in, and then are welcome to use our libraries. Please try to bring your card at checkout, some libraries may require you to present your library card at checkout. 
Fines: When calculating fines, we count only the days the library is open. For materials 3 or more days late, the 2 days of the grace period are counted in computing fines. People who owe $20.00 or more in back fines or bills will not be allowed to borrow library materials.
Renewals: Items are renewed for their normal loan period, subject to the limits described above. You may not renew an item if it is on hold for another patron, if you owe more than $20.00 in fines or bills, or if the item has already been renewed the maximum number of times. Items can be renewed in person at either the Atwater Memorial Library or the Edward Smith Library, over the phone or by logging into your account online.
Overdues and Charges for loss or damage: A patron account with fines totaling $20.00 or more will be blocked and not allowed to borrow materials. Long overdue items will be billed; if they are not returned, the full replacement cost must be paid. The full replacement cost must be paid for materials which are lost or damaged beyond repair. Lesser charges will be made at the discretion of the Department Head for materials which need to be repaired, dried out, or re-covered, or for other types of damage.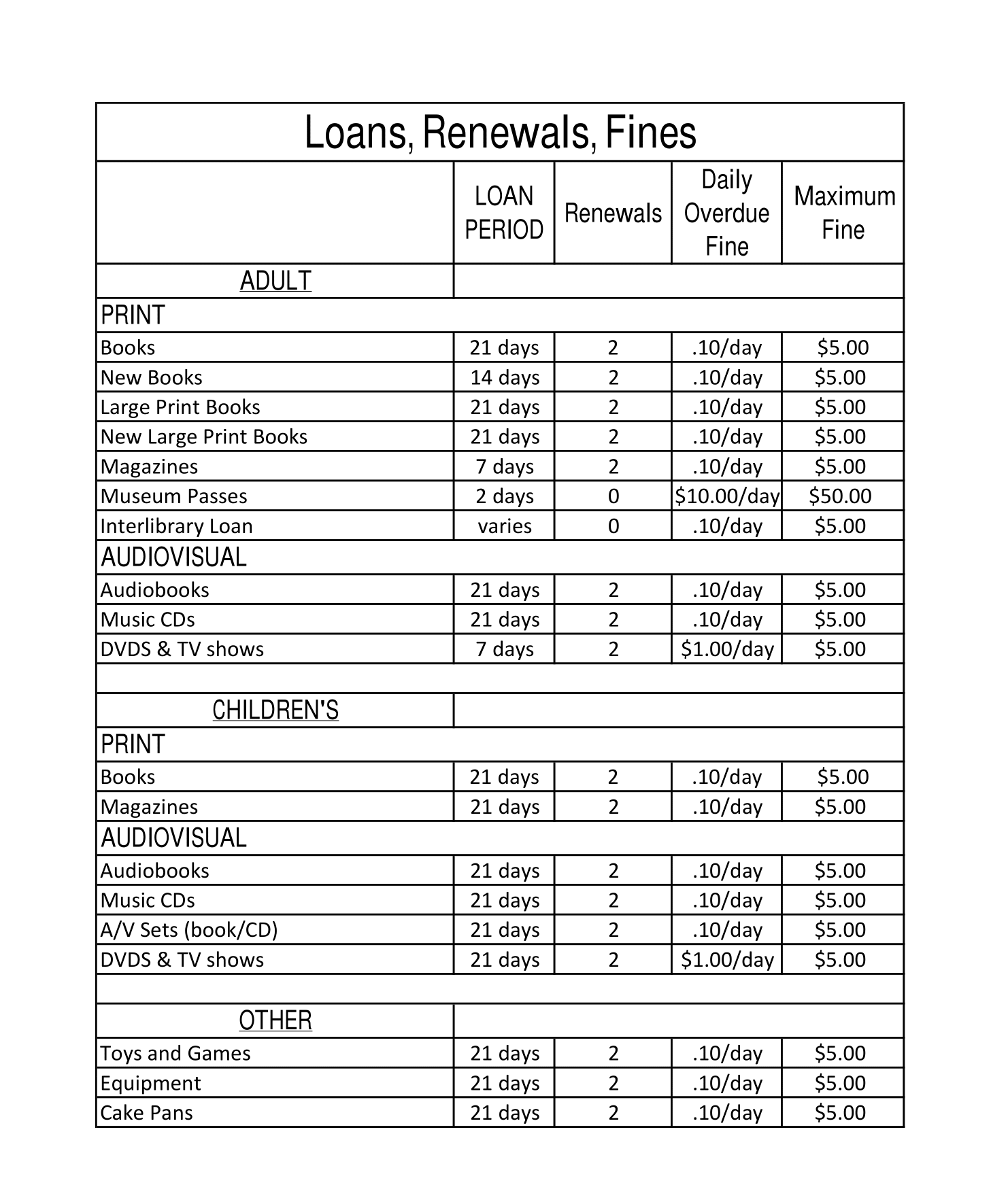 For a full list of library polices and guidelines, click here